It's the end of the year and like last year I have made a list of my favourite films from this year. It has been a great year for film, blockbusters are getting bigger and better,, and there have been world records set at the box office. The independent films from this year have also been brilliant, with some making this list.
Absolute favourites
Mad Max: Fury Road
Topping many 'Best of' lists this year, it is easy to see why and I agree, even when first hit screens. After doing a review  on the film myself, I stand by why this is one of the best films from this year, and one of my favourites. Everything about is good – music, cinematography, stunts, performance, story.
The Martian 
Another film about a group of people saving Matt Damon? This time from Mars. From director Ridley Scott, this ensemble drama, plus a great leading performance from Damon had me laughing, nearly tearing up and on the edge of my seat. With the sciencey side of it correct, this was a thoroughly enjoyable film from the last year and re-affirmed my love for Damon and Scott.
Brooklyn
Not so high on the radar, and far from being a blockbuster, the adaptation of Colm Tóibín's novel of the same name is a wonderful piece of film from this year; it gives a stand out performance from Saoirse Ronan as Eilis. Romantic, heartfelt and gorgeously shot on location in Ireland Brooklyn shows independent cinema at it's best.
Drama
Sicario
The war on drugs is brought to the big screen again in Denis Villeneuve's gripping thriller Sicario starring Emily Blunt, Josh Brolin and Benicio Del Toro. Blunt's DEA agent is thrown into a shadowy dealings along the US/Mexico border and along with the mysterious Del Toro is in over her head. Stunning cinematography from Roger Deakins brings the harsh landscape together with the dangerous morals of such a job, and Sicario is one of the most intense films of the year.
Ex Machina
Showing sci-fi on a smaller scale and stunning us with the dialogue and story, Alex Garlands directorial debut is a film that is not hard to forget. Confined to a house in a remote location Domhnall Gleeson becomes part of a psychological game with Oscar Isaac's enigmatic CEO and android Alicia Vikander. Full of mystery and twists, it is hard not to think about this film
Animated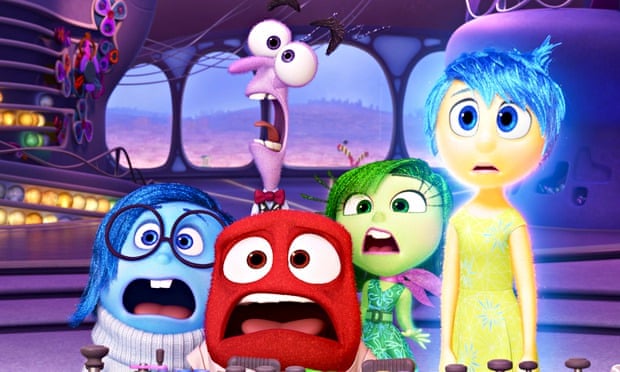 Inside Out
Pixar has done wonders once again. Hard to describe to other people what the film is really about, it takes watching it to understand. Riley is a young girl who has moved to the other side of the country and struggles with her new life. And inside her head are the 5 emotions that are there to take charge and help her out. It is a heart warming, tear jerking film that is suitable for anyone to watch and enjoy. In many ways, Inside Out is Pixar's first film more directed for adults than kids.
Comedy
The Lobster
Dark comedy The Lobster from director Yorgos Lanthimos is set in a dystopian future where single people must go to the hotel to find a romantic partner in a certain amount of days or else be turned into an animal. Featuring Colin Farrell, Rachel Weiss and other fantastic actors, this film is darkly funny and confusing and sometimes scary. Giving a sardonic view of society it is easy to crack a smile to the deadpan humour.
Pitch Perfect 2
Sequels are hit and miss, especially comedies, but this follow up to the musical A Capella hit Pitch Perfect hit the right notes. Elizabeth Banks feature directing debut has the same mix of comedy, great A Capella and girl power that the first has and changes it up just that much to make it one of the better comedy sequels to come out and one of the best of the year.
Honourable mentions
Kingman: The Secret Service 
Director Matthew Vaughn brings another great adaptation of a comic book in the form of Kingsman this time from the spy genre. It is fun, subversive and stylish, referring back to the old school films. Brimming of great action scenes and Colin Firth in his most bad-ass role yet, it is a more than entertaining watch with an extra bonus of a lisping Samuel L. Jackson
Furious 7
Perhaps not a film that will receive many ostentatious awards, but it beat box office records for the franchise and studio in April. Yet for any fans of Vin Diesel and the Fast and Furious  franchise the seventh was important. The last to feature the late Paul Walker, Furious 7 made a more obvious point about family, a strong theme throughout them all. With the added danger/bonus of Jason Statham, it was bigger and better on the cars and stunts and the fight scenes, making the latest instalment a worldwide action movie, with some heart at it's centre.